When Jesus Met Mary and Martha
September 6, 2020
Hospitality is a blessing from God. When we show hospitality to others, we show hospitality to God. Although the natural human tendency is to join others who are like us, we must be willing, Hebrews 13.2 says, to entertain strangers--those we don't know and in particular those who are not like us because Jesus invites all who will come to his table of fellowship. Only when the followers of Christ show hospitality to others will others be open to the hospitality that Jesus offers.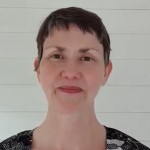 Michelle Vondey
Luke 10:38–42 (Listen)
Martha and Mary
38 Now as they went on their way, Jesus1 entered a village. And a woman named Martha welcomed him into her house. 39 And she had a sister called Mary, who sat at the Lord's feet and listened to his teaching. 40 But Martha was distracted with much serving. And she went up to him and said, "Lord, do you not care that my sister has left me to serve alone? Tell her then to help me." 41 But the Lord answered her, "Martha, Martha, you are anxious and troubled about many things, 42 but one thing is necessary.2 Mary has chosen the good portion, which will not be taken away from her."
(
All Scripture quotations, unless otherwise indicated, are taken from The Holy Bible, English Standard Version. Copyright ©2001 by Crossway Bibles, a publishing ministry of Good News Publishers. Used by permission. All rights reserved. Text provided by the Crossway Bibles Web Service.
Podcast feed - put this into your favourite podcast software to keep up to date with all of our preaches.