The simple gospel
November 24, 2019
Andrew encouraged us from our latest passage by reminding us once more that salvation is by grace alone. That in one sense the gospel is incredibly simple and 'all who call on the name of the Lord will be saved!'. We are encouraged by Andrew's own personal journey and heard how God delivered him out of works and religion into discovering a relationship with Jesus founded on grace. That a true understanding of grace leads to boldness in life. To faith to pray for the sick and for the storms of life to be stilled. That grace encourages us that all who believe on him will never be put to shame.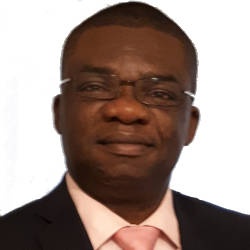 Andrew Onobrakpeya
Romans 10:5-13
The Message of Salvation to All
5 For Moses writes about the righteousness that is based on the law, that the person who does the commandments shall live by them. 6 But the righteousness based on faith says, "Do not say in your heart, 'Who will ascend into heaven?'" (that is, to bring Christ down) 7 or "'Who will descend into the abyss?'" (that is, to bring Christ up from the dead). 8 But what does it say? "The word is near you, in your mouth and in your heart" (that is, the word of faith that we proclaim); 9 because, if you confess with your mouth that Jesus is Lord and believe in your heart that God raised him from the dead, you will be saved. 10 For with the heart one believes and is justified, and with the mouth one confesses and is saved. 11 For the Scripture says, "Everyone who believes in him will not be put to shame." 12 For there is no distinction between Jew and Greek; for the same Lord is Lord of all, bestowing his riches on all who call on him. 13 For "everyone who calls on the name of the Lord will be saved." (
All Scripture quotations, unless otherwise indicated, are taken from The Holy Bible, English Standard Version. Copyright ©2001 by Crossway Bibles, a publishing ministry of Good News Publishers. Used by permission. All rights reserved. Text provided by the Crossway Bibles Web Service.
Podcast feed - put this into your favourite podcast software to keep up to date with all of our preaches.